Proposed Plan for Restoration & Remediation of the Boat Basin (Behind Bldg. 13) and Pettibone Creek. This is the complete document describing alternative proposals for the above work.
---
Jim Moran & the Caribbean 15 Rally
I'll be leaving home Thursday for the Caribbean 1500. Some of my friends have expressed curiosity about this trip. In the event you have an interest, here are the details…
This year will be the 20th. Anniversary of the Caribbean 1500, an annual offshore sailboat rally. More than 60 boats will race in assigned handicap classes from Hampton, VA to Nanny Caye in Tortola, BVI. Once again, I'll be one of a crew of four on Archangel, a Hylas 54. We're scheduled to depart on Monday, Nov. 2, timed to avoid the hurricane season. In past years, the trip has taken us 8 to 9-1/2 days. Some of the smaller boats have taken as long as 14 days. Each boat will carry a transponder that will transmit our location to a satellite every four hours. Our track and location will be downloaded from the satellite to the 1500 website twice daily. If you wish, you can log on and follow our progress at www.carib1500.com.
It's actually not unusual for the start of the 1500 to be delayed based upon the offshore weather forecast. If we don't have the weather window to avoid major weather systems on our scheduled departure date, we'll wait whatever time is necessary for the weather system to clear our route to the Caribbean. We can't always avoid local squalls but we make every effort to avoid the more serious large weather systems. Information concerning any weather delay should be posted daily on the 1500 website.
I am fortunate to have sailed as many as three passages a year on Archangel since 2002. Over the years, we've had an opportunity to sail every mile between the Bay of Fundy and the Caribbean. Some of those miles, numerous times. This will be my third passage on Archangel this year. Our crew will consist of Fran (Hershey, PA), a meticulous owner and serious amateur chef who takes pride in feeding us better than any other boat in the fleet, Jim (St. Thomas, USVI), our professional captain, my friend Terry Hartl (Gurnee, IL), another Lake Michigan sailor, and me. The four of us have sailed together offshore previously and work exceptionally well as a team. We typically schedule a solo 4-hour day watch and a 3-hour night watch routine. That means that each of us stands watch for 7 hours per day leaving 17 hours to sleep, eat, catch a few fish and read. Our sleep periods will necessarily be split up but we can expect a good 7 to 8 hours sleep per 24-hour period. I will return home in time for our 41st. wedding anniversary on November 16.
Here are this year's statistics as taken from the 1500 website:
* 63 Boats
* 55 from the United States - 23 states & the District of Columbia (VA-9; MD - 8; ME-5)
* Four Canadian boats - three provinces
* Two from the UK; one from Japan; one from Germany; and one from New Zealand
* Eight family boats with 20 children
* Average length 47.3 ft led by the two Sundeer 60's
* Four catamarans; one schooner; the rest, monohulls
* 35 different boat manufacturers led by Hylas and Amel with six a piece.
* 25 skippers (40%) are veterans of previous Cruising Rally Association sailing events
Jim Moran
Archangel in Tortola during a previous Caribbean 1500.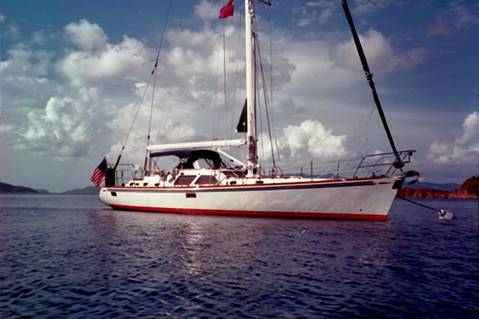 Our same Crew in Annapolis following our return from the Caribbean in May.